Event Detail
This event has already taken place! Please make sure you are in the correct year.
×
Back to Events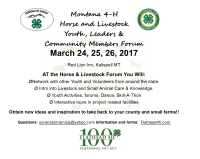 Education :: Conference
Horse & Livestock Youth, Leaders & Community Forum
4:00 PM
Red Lion Hotel Kalispell
Description:



Montana 4-H Horse and Livestock Forum Registration
March 24th thru March 26, 2017
Red Lion Inn, Kalispell
Class Descriptions
Forum is open to 4H youth and leaders, FFA members, community youth and adults.
Celebrate 100 years of 4H in Flathead County with us!
Beginners Guide to Swine Part 1
Presenter: Dr. Dave Madsen
The ins and outs of raising a farm pig. Raising a healthy animal is no easy task. From the selection of the pig to proper shelters, bedding, diet, nutrition and handling, what is your role as a producer in the food supply chain and your responsibility to produce a safe food product while caring for animals in an ethical manner.

Beginners Guide to Swine Part 2
Presenter: Dr. Dave Madsen
Step-up your game and become hog wise. Understanding a producer's responsibility in regards to bio-security, transportation health issues, and vaccinations is critical. Take a look at the larger world of pork production and what it takes to breed your own pigs.

Bio for David Madsen, DVM
PIGeducate is created and distributed by David Madsen, DVM, a Purdue University School of Veterinary Medicine graduate with 46 years of professional experience and a lifetime of pig savvy. Raised in a family of purebred pig breeders, Dr. Madsen directed his career toward food animal medicine primarily, then spent 20 years as a pig specialist after gaining Board Certification through the American Board of Veterinary Practitioners, Swine Health Management. After serving as President of the American Association of Swine Veterinarians and other duties for that organization, he ended his full-time career as Director of Health Services for a division of Smithfield Foods, where he was responsible for health and well-being of 105,000 sows producing nearly 2,000,000 pigs annually. His semi-retirement brought him and Sandie, his bride of 37 years, to Montana, where he participates part-time in a mixed animal practice, fly fishes, and serves a few Montana pork producers & exhibitors.

Youth Loans through the US Department of Agriculture-Farm Service Agency
Presenters: Sheila Rigby-USDA, Bailey Lake & Kali Brubaker
"The U.S. Department of Agriculture's Farm Service Agency (FSA) makes operating loans of up to $5,000 to eligible individual rural youths age 10 through 20 to finance income-producing, agriculture-related projects. The project must be of modest size, educational, and initiated, developed and carried out by rural youths participating in 4-H clubs, FFA or a similar organization." Learn how to apply and speak with two youth members who have utilized this opportunity to grow their breeding projects.

Managing your Beef Project
Presenter: Cash Yount of CHS
Overview of nutrition, animal welfare, and feed and health management. We will cover things like understanding feed labels, providing adequate growing environments, providing a sound product for consumers and their role in our industry and touch on motivation and focus on the project.

Managing your Sheep Project
Presenter: Cash Yount of CHS
Overview of nutrition, animal welfare, and feed and health management. We will cover things like understanding feed labels, providing adequate growing environments, providing a sound product for consumers and their role in our industry and touch on motivation and focus on the project.

Bio for Cash Yount
Cash Yount is a Nutrition Consultant for CHS Nutrition out of Great Falls, MT. He helps carry on Montana agriculture every day of his job by helping to build feedlot diets, formulate mineral programs and delivery nutrition advice to Western Montana's beef producers. He specializes in cow calf operations, but gets to help with a wide array of production agriculture including Emu! He was a 9 year 4-H member himself, serving as the local ambassador for Powell County and going on to serve as the Montana Extension Advisory Council rep for the state ambassador program. Cash gives an average of 30 Quality Assurance talks for Montana 4-H a year, fostering growth and knowledge for the youth. He enjoys empowering tomorrow's producers and working with youth organizations.


The Basics of Sheep Breeding
Presenters: TBD
Basic information on how to get started with a sheep breeding project.

NILE Merit Heifer Program
Presenter: Garrett Jewett and Jewett Family
"The purpose of the project is to help youth get a start in the beef cattle business by awarding heifer calves to project participants chosen on the basis of merit, future goals and ability to care for the animal." Garrett was awarded a merit heifer in 2015 and will walk through the process from application to completion.

Raising a Mini Beef, the ins and outs
Presenters: Wendy Morris, Beef Leader and Campbell Barrett, Extension Agent
Minis-Is bigger always better? Would they work for your County? Miniature cattle: the mere mention has brought on different reactions and questions. When did they get started? Are they known breeds? Why would you want to raise miniature cattle? How miniature are they? What are they used for? Where are they raised? Come to this presentation for answers to these questions and any questions you may have and more info.

Rabbit Showmanship/Basic Health for Students and adults
Presenters: Tobias and Thomas Diegel , Youth Leaders and National Rabbit Showman
What you need to know for successful rabbit showmanship, including the basics for a healthy rabbit. They will share their experiences from breeding & showing the past seven years and going from the fair to the National Rabbit show successfully. They will demonstrate how to show a variety of Rabbits as well as how/when to deworm your fluffy friend. Rabbit will be shown for demonstration.

The Do's and Don'ts of Raising and Showing Birds
Presenter: Tierra Johnson, Leader
Showmanship steps, Parts of Birds (Chickens, ducks, turkeys, geese)/Different Combs. Plants that you DO feed and DO NOT feed to your birds. Common flock Problems. Natural Organic remedies and treatments.


Looking for a new hobby? How about Backyard poultry?
Presenter: Tierra Johnson, Leader
All you need to know to start your own healthy flock of egg layers.

Proper Sanitation
Presenter: Tierra Johnson
An Ounce of Prevention is a Pound of Cure Proper sanitation and cleaning. What you want to look for in disinfecting products. Proper sanitation produces better results. How germs spread using a Glo germ kit to illuminate germs.


Equine Dental, in-depth on your horses health
Presenter: Dr. John Erfle, LaSalle Vet Clinic
A horse's performance starts with the teeth. Learn how teeth are important in this process for getting key nutrients. Teeth relate to body condition that relates to performance.

Horse assessments 101, Be on the same page
Presenter: Codi Sorensen, Horse Leader
Assessments can be both confusing for leaders and youth. Learn how to train your county leaders so that you're all on the same page. Make it a fun, educational experience for the youth.

Horsing around at Camp and Work Meetings
Presenter: Stacia McAdams, Horse Leader and prior Camp Director
Go from successful work meetings to a day camp to an overnighter. Has your county considered putting on a horse camp but doesn't know where to start? Or do you currently put on a horse camp but want to know what other county's do. Stacia McAdams will help provide you with the information, tips, and tricks for a successful horse camp. So whether you are new to the camp business or just want to improve your current one, this is the session for you.

Hoofin it from the Ground up
Presenter: TBA
Horse and Livestock health starts from the ground up with their feet. Get an overview of needs to be looked for in your animal's feet.

4-H and The Many Oppurtunities and Youth Development
Presenter: Samantha Braaten, Youth Ambassador Coordinator and Ben Frentsos, Extension Agent
4-H is full of so many amazing opportunities such as travel, leadership training, scholarship, competitions, and chances to meet fellow 4-hers. Come to this section and learn of the amazing opportunities that await in 2017

Livestock Nutrition from the Ground Up
Presenter: Markus Braaten, Manager of Agronomic Precision Services A GRI-TREND® Knowledge Team
Healthy livestock begins with healthy soils. In this presentation we will look at the role soil fertility plays in producing forages that contribute to animal health. We will look specifically at soil and forage tests and how they are connected to land management.

Horse/Livestock Judging and Competitions
Presenters: Ashley Lau and Kristi Trupka, Leaders
Learn about the available contests and travel opportunities that youth can participate in. In this workshop you will get a brief overview of the different many contests, resources to start a team, and discussion on how to spark interest in Congress competitions, such as Horse Judging, Livestock Judging, Speeches and Horse Skillathon. We hope to build a network to help support coaches and teams across the state, and provide more competition opportunities.

Round table Discussions:
Pick a table! Discuss your counties projects, get new ideas, learn animal cares from each other, gain new insights and meet new friends. Some Round Tables: swine, beef, lamb, horse projects, competitions, leader discussions, youth discussions

Tours:
Take a tour at a business.

Lower Valley Processing, Judge the carcass and learn the process:
Lower Valley Processing Company - As fourth generation owners, Jeremy and Janell Plummer are excited to show off their ever expanding family business. Jeremy and Janell will personally give the tour. The entire facility will be open for observation. Your tour will begin where the live animals arrive. They will explain the intense government inspection each animal receives throughout the process to ensure consumers a safe product. They will discuss the carcass. They will end the tour in the store where finished product is picked up. The store will also be open to purchase snacks and refreshments. The tour will highlight the operation and show the modern equipment used on a daily basis.


Fodder Feed for your animals: Jay and Chris Scott
Scott Livestock Feeding Operation
The Scott family is a native Montana family with local community perspectives. Scott Livestock is committed to raising high quality fed beef. In the summer of 2015, Scott Livestock designed and built a facility that ensures our cattle are fed a year around supply of green feed that will provide the most natural high quality beef possible, at an affordable price. This fodder program plants, grows, and harvests a continual supply of green feed. This feed can be fed to cattle, horses, sheep, hogs or chickens. FodderPro states that this type of feed will improve milk production in cattle, higher energy and coat gloss in horses, with easy feeding with no waste. Learn how we produce affordable feed with rapid growth, high nutritional values, and real benefits. This can be done no matter the time of year or the weather outside.
Come to our barn and see how our cattle look, produce milk and raise calves with limited feed that is grown on our livestock operation.


Hedstroms Kalispell Kreamery
Kalispell Kreamery is a vertically integrated dairy operation that produces, processes, markets, and delivers their milk state wide. While touring this unique operation you will have the opportunity to walk through every step the milk takes- from moo to you. Begin by visiting the cows and end by sampling our high quality Cream-On-Top whole milk, yummy chocolate milk or creamy Honey Greek Yogurt.

Schedule: subject to change with availability

Friday:
4-5:30pm Registration
5:30 Opening Session
Flag Presentation- Flathead County Ambassadors
Welcome
Dinner

7pm Skillathon for the Youth
7pm Round Table Project Discussions


Saturday:
7:30-8 Registration

9:30-10:20 Workshop Session 1
10:30-11:20 Workshop Session 2

12:00 LUNCH Round Table Discussions

1:30-2:20 Workshop Session 3
2:30-3:20 Workshop Session 4
3:30-4:20 Workshop Session 5

5:30pm Dinner: speaker on 4H opportunities, "opportunities beyond the club in 4-H"and 4-H Outbound to Norway program
6:30 Horse/Livestock judging
8 Dance


Sunday: Tours (times can change)

8:00 Any last minute discussion or questions!?

9:30 Lower Valley Processing
9:30 Fodder Feed
9:30 Hedstroms



The Montana State University Extension Service is an ADA/EO/AA/Veteran's Preference Employer and Provider of Educational Outreach.
To request a disability accommodation or to inform us of special needs, please contact the MSU Flathead County Extension Office at 758-5553.



Advertisement
Links:
Age Group: All Ages

Venue:
Red Lion Hotel Kalispell
Address: North 20 Main Kalispell, MT 59901
Phone: N/A